---
Want to learn more about a future career in massage therapy?
School of Massage
---
About HHMI
---
Let's Talk
---
---
Ready to Start?
MULTIPLE SCHEDULES
A Schedule for Everyone
We offer evening classes, morning classes, and full time classes at our massage school in Richardson to ensure we meet your individual needs.
Upcoming Start Dates
M-Th: 8:30AM - 6:00PM *
F: 8:30AM - 12:30PM *
M-Th: 8:30AM - 1:00PM *
F: 8:30AM - 12:30PM *
great schedules
Different Schedules for your busy life
HHMI is a Dallas massage school that offers flexible schedules to accommodate your busy schedule. Whether you want to continue working while taking classes part-time or you want to go to school full-time, we have the program for you.
Contact us for details about long-term financing. HHMI will work with you on the best program and payment plans for your lifestyle. Graduate with little or no debt.
Admissions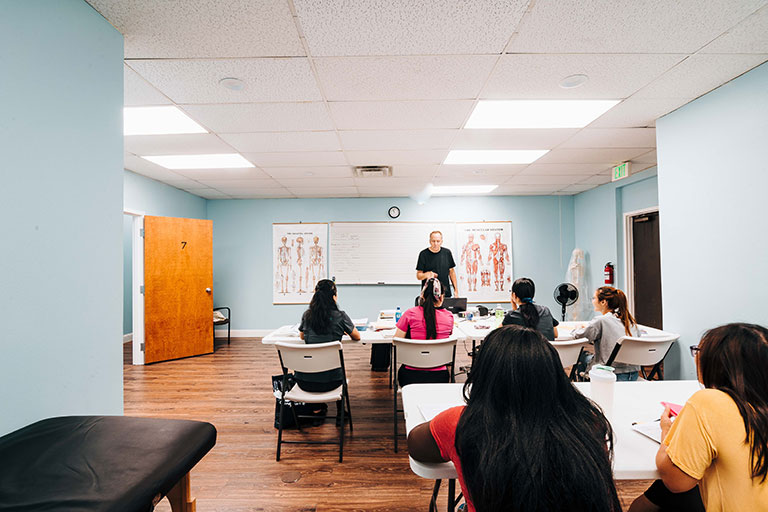 The Healing Hands Difference
Everything You Need to Succeed
Take a Tour of the School
Visit Us in Richardson, TX
Healing Hands Massage Institute is conveniently located in Richardson, Texas just outside of Dallas. There is easy access to all major Dallas freeways, so we're accessible from anywhere in the Dallas metropolitan area.
We also have DART light rail commuter stations, DART public buses and non-stop freeway access to Dallas Ft. Worth International Airport.